Kang Ha Neul's "Midnight Runners" and "New Trial" receive nominations at the 54th Daejong Film Awards
Two movies starring Kang Ha Neul,  "Midnight Runners" and "New Trial"  have received nominations at the upcoming 54th Daejong (Grand Bell) Film Awards.  The nominees were selected by a panel of 32 industry experts over a 10-day screening period.
"Midnight Runners" was released in South Korea in August 9. It tells the story about two police academy students (Kang Ha Neul  and Park Seo Joon) who undertake the investigation of a kidnapping case they personally witnessed.
"Midnight Runners" was nominated in the following categories:
Best New Director (Jason Kim)
Best New Actor (Park Seo Joon)
The action comedy film is known for the strong chemistry between the lead actors. It was seen by 5.6 million viewers domestically and is currently South Korea's 4th top grossing film in terms of admissions.
Meanwhile, legal drama movie "New Trial" is based on a real-life murder case where a teenager (Kang Ha Neul) was falsely accused of killing a taxi driver and sentenced to a ten-year prison term. After 10 years, he seeks the help of a lawyer (Jung Woo) in deep financial debt who helps him achieve justice and clears his name. The movie was released domestically on February 15.
"New Trial" was nominated in the following categories:
Best New Actor (Min Jin Woong)
Best Supporting Actress (Kim Hae Sook)
Best Planning
Known as South Korea's equivalent to the American Academy Awards, the Daejong Film Awards was launched in 1962 to boost the quality of Korean films and to support the industry.
The awards ceremony this year will take place on October 25 at the Sejong Center for the Performing Arts in Seoul.  It will be broadcasted on KBS at 6:30 pm.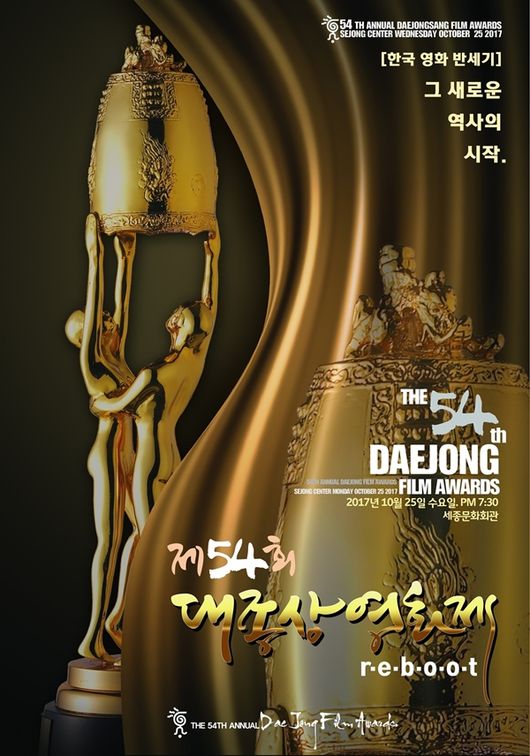 By riversky